This workshop on digitisation has the goal of familiarising you with the world of digitisation in a practical as well as theoretical context. The focus is not only on the capturing of images and other digital objects, but the entire life-cyele of digitisation from initial conception, strategising, preparation, and through to eventual access and usage of your digital collections online. One key element of our approach is that digital skills, including digitisation of collections, are an increasing important skill of the modern museum professional.
We address the following processes which are part of the total life-cycle of digitisation:
Getting Started: a short introduction to the principles and practices of the Scoping and Strategising processes – where you are, where you need to be, and how you are doing to get there
Planning: how to construct project plans and to manage digitisation projects using best practice project management methods. This also includes how to plan to embed digitisation into your core collection management processes.
Preparing: concerning a range of issues that must be dealt with in advance of the capture process, including selection of materials and formats, naming conventions, handling of items, workflows, metadata standard to use, and the entire process of getting the digital objects to their permanent home.
Describing: in terms of how to use metadata to describe both the digital objects as a technical object, as well as the contextual elements that give this meaning and relationship to others.
Capturing: in which the digital objects are captured from others, focusing on equipment, formats, resolutions, post-processing, naming and temporary storage of the items.
An outline of the Loading and Storing processes which push digital content up to your own repository and to aggregators and search engines.
An outline of the Accessing and Using processes which make usage of the digital repository contents to support search, retrieval, and a variety of uses, with a bias towards future digital user communities of learners, researchers, and tourists.
Activities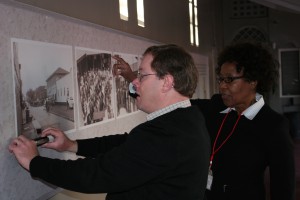 The activities for this course will involve practical work concerning the digital collections of other institutions, as well as a review of your own digitisation efforts.
Some of the practical exercises performed will include:
Structuring digitisation strategies that are specific to your organisation's needs and plans
Completing a condition report to ascertain your own organisation's digitisation needs and the effectiveness of your strategies
Introduction to equipment that facilitates and aids digitisation efforts (for small and large budgets)
Use of basic image manipulation programs
Methods of metadata entry and file naming
Examining your own digitisation strategies to reflect on best practices and what can be done to improve them
Outcomes
By the end of the course, participants will have a sound understanding of how to create and conduct effective digitisation strategies that adhere to necessary policies and copyright laws.
They will know how to plan and implement digitisation initiatives from the beginning to the end of a project.
They will have a basic understanding of equipment and programs to be used during digitization projects, and essential knowledge of photographic and scanning technologies.
They will learn about the best ways to control data and metadata in relation to digitised collections.
Pricing
Please check our Workshop Pricing and Booking Process page for further information.
Comments from our Do-it-yourself-Digitisation Workshop participants:
"Informative and can be applicable to top management in museums" — Lebogang Nyenye (Dept. Sports, Arts, Culture & Recreation)
 "The workshop activities were informative and interesting, certainly help to recognise how much more needs to be thought about" — Amy Goodenough (National English Literary Museum)
"It was very interesting and useful" — Crystal Warren (National English Literary Museum)
 "Excellent Workshop! Wish we had it much sooner. Thank you Roger and Tammy for two super informative days!" — Maryna Venter (North West University Archives and Museums)
"Great workshops and course!"  — Francois Windvogel (Drostdy Museum)