On Heritage Day, 24 September, ETHER attended an emotional memorial at the Catholic Church in Boipatong, attended by around 300 people, of which many were survivors and relatives of the victims.
The purpose of the day was to announce the new mobile web site called the Voices of Boipatong, which has been developed by the ETHER Experience business unit of The ETHER Initiative, for Khulumani Support Group, under a funded project from the National Heritage Council. This is available at http://www.xappx.com/boipatong/ until it finds a permanent home.
Many representatives from the local community and the municipality were present and made presentations in the day-long event, culminating in the demonstration by Nzumbu Nethengwe of the ETHER Initiative, who was the primary developer of the digital repository and the web site.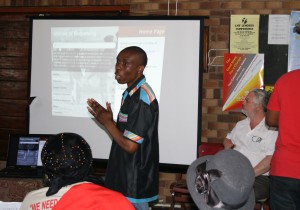 Nzumbu Nethengwe demonstrating the "Voices of Boipatong"
The Voices of Boipatong is intended as a digital memorial to the large number of victims of this massacre on 17 June 1992, and it makes accessible a large amount of materials from many sources. These sources include the oral history records of Khulumani themselves, including accounts from the survivors. It also includes links to many online resources such as newspapers, the Department of Justice TRC files, the SABC, the O'Malley Archives at the Nelson Mandela Centre of Memory, and the Goldstone Commission archives held at Historical Papers unit at the University of the Witwatersrand.
A number of photographs collections are also provided online, as well as a few videos.
This provides both the local residents, as well as researchers, access to original information materials which has never been available in a single place previously.
The work is continuing, and more records are being added through a maintenance process which will ensure that this important digital archive continues forever.