On 8-12 June 2015 we ran a series of workshops at the Oliewenhuis Art Museum in Bloemfontein.
It is difficult to express how wonderful is this jewel in the heritage sector and the help and support we received from the museum staff and management during these workshops.
This is our third series of workshops in Bloemfontein, and in the words of a famous movie character "We'll Be Back!".
The workshop programme quite quite intense, with 15 delegates covering 4 of our workshops over the 5 days available. These included Archiving and Records Management, Digitisation Principles and Practices, Project Management for Heritage Professionals, and Storage Management for Heritage Collections.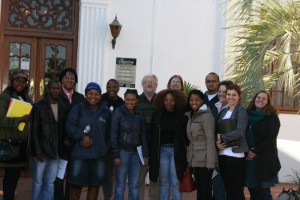 We had 15 delegates from a variety of institutions, including the Free State Museum services, the National Museum, and Oliewenhuis itself.
I would highly recommend your taking the time to visit this exceptional museum when you are in Bloemfontein next, and if you are just passing through and have time for one thing to do, then do yourself a favour and make this your activity.